20 Feb

Mole Sauce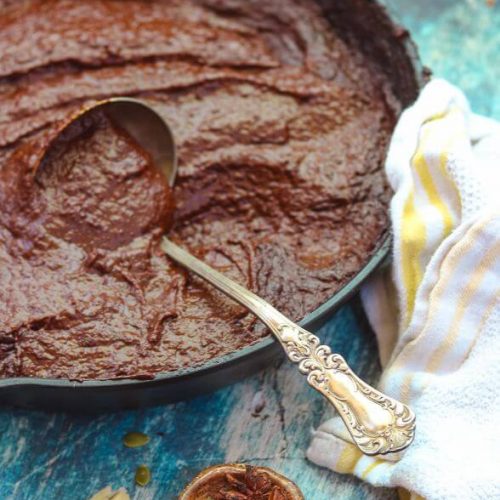 Print Recipe

This recipe has been added to your Meal Plan

Add to Shopping List

This recipe is in your Shopping List
This easy, mole sauce recipe is spicy and complex. So easy to make fresh mole from scratch! Use it over chicken, turkey, or pork. Freeze leftovers for another time. Recipe from Restless Chipotle
Servings

Prep Time

24

servings

15

minutes
Servings

Prep Time

24

servings

15

minutes
Print Recipe

This recipe has been added to your Meal Plan

Add to Shopping List

This recipe is in your Shopping List

This easy, mole sauce recipe is spicy and complex. So easy to make fresh mole from scratch! Use it over chicken, turkey, or pork. Freeze leftovers for another time. Recipe from Restless Chipotle

Servings

Prep Time

24

servings

15

minutes

Servings

Prep Time

24

servings

15

minutes
In a heavy (cast iron is best) frying pan heat 2 tablespoons of oil over medium heat.

Add the chopped dried chiles, garlic, cloves, pumpkin seeds, almonds, sesame seeds, and tortilla chips.

Cook for 5 minutes, or until chiles are softened and begin to brown. Don't scorch the garlic!

Add the tomatoes, onion, raisins, bananas, cinnamon, and 1 cup of chicken stock.

Simmer for 20 minutes or so, adding more stock as needed, until all the ingredients are soft.

Place in a blender, about 2 cups at a time, and puree adding chicken stock as needed until the mole is a smooth, thick paste.

Heat the remaining two tablespoons oil over medium heat.

Add the chili powder and the chocolate.

Cook, stirring constantly, until chocolate and chili are melted together and smooth - be careful not to scorch!

Stir the pureed mixture into the chocolate mixture.

Bring to a boil, adding more chicken stock as needed to reach desired consistency.

Add sugar and salt to taste.
Use any combination of dried chiles that you like and are available in your area.