18 Feb

Hawaiian Roll Cuban Sliders

Posted at 14:24h

in Uncategorized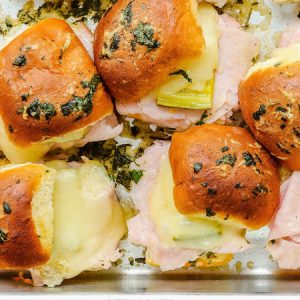 Print Recipe

This recipe has been added to your Meal Plan

Add to Shopping List

This recipe is in your Shopping List
Elevate your dinner game with these hearty baked Cuban sandwiches. They start with King's Hawaiian™ Rolls, so you know they'll be good—and then they're piled high with roast pork, ham, Swiss cheese and pickles. It all gets drizzled with garlic- and cilantro-infused butter and baked until golden brown and toasty. Make 'em once, love 'em forever. Recipe from Tablespoon.com
Servings

Prep Time

12

sandwiches

5

minutes
Servings

Prep Time

12

sandwiches

5

minutes
Print Recipe

This recipe has been added to your Meal Plan

Add to Shopping List

This recipe is in your Shopping List

Elevate your dinner game with these hearty baked Cuban sandwiches. They start with King's Hawaiian™ Rolls, so you know they'll be good—and then they're piled high with roast pork, ham, Swiss cheese and pickles. It all gets drizzled with garlic- and cilantro-infused butter and baked until golden brown and toasty. Make 'em once, love 'em forever. Recipe from Tablespoon.com

Servings

Prep Time

12

sandwiches

5

minutes

Servings

Prep Time

12

sandwiches

5

minutes
Preheat oven to 350°F. Separate rolls and slice them in half horizontally. Arrange bottom halves of rolls in a 13x9-inch baking pan.

Layer roll bottoms with roasted pork.

Add sliced ham and pickles.

Add top of the rolls. In a small bowl, combine melted butter, cilantro, garlic and mustard. Spoon butter mixture over sliders.

Cover baking pan with foil and bake for 15 minutes. Remove foil and bake for 5 to 10 minutes longer, or until cheese is melted and rolls are lightly brown.
These sweet roll sandwiches have become a staple at our house, perfect for quick dinners, parties, potlucks or as an after-school snack. What I like the most is that they're super versatile. You can fill them with whatever your heart desires and they'll turn out fabulous every single time. This time I made them with the traditional Cuban sandwich ingredients: pork, ham, pickles and cheese. Then I drizzled them with seasoned melted butter and baked until golden brown. YUM! So, if you need to feed a party (or just a party of one) in flash, whip up a batch or two of these easy Cuban rolls. Maybe make a double batch just to be sure—there's no way anyone can eat just one of these sandwiches. Enjoy!